Contribute to society by helping our aging population in the future through medical and nursing care.
Focus on compliance and make conscientious efforts to live up to the trust put in us by customers and society.
Provide medical and rehabilitation equipment to reduce patients' pain, increase mobility in senior citizens.
Improve QOL in patients and senior citizens, by utilizing our know-how accumulated over half a century of developing medical equipment.
Propose useful ideas and provide support for better institutional management, in addition to supplying hardware equipment, in order to achieve the above goals.
Take an open and communicative approach to our patients and senior citizens as end users, as well as their families, medical staff, and institutional managers.
Check out some other unique MINATO products in our offer!
Address: 23 Wojskowy Szpital Uzdrowiskowo - Rehabilitacyjny, Plac Mariański 7/8, 57-540 Lądek Zdrój Installation date: 06.09.2022 Szpital Uzdrowiskowo-Rehabilitacyjny - Lądek-Zdrój
Headquarters
3-13-11 Shin-kitano, Yodogawa-ku, Osaka 532-0025 Japan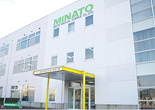 P.H. HAS-MED (est. 1992) company is exclusive distributor of Japan corporation: Rehabilitation&Wellness Minato Medical Science Co., LTD. Don't wait! Just contact with us!
+48 33 812 45 82 FAX: +48 33 812 31 79 biuro@hasmed.pl