Solar Power
Minato Medical Science Co., Ltd has been working actively on CO2 reductions by using natural energy. We have installed solar power generation systems with a total capacity of 416 kw on the roofs of the buildings at our Kobe Facilities (Kobe, Hyogo) and Nishiki Facilities (Sasayama, Hyogo).
Under clear skies, natural energy provides all the power required for production and development activities in these facilities.
Reconstruction Assistance for Areas Affected by the Great East Japan Earthquake
We donated 10 million yen through the Japanese Red Cross Society to support reconstruction efforts in the affected areas. Immediately after the disaster, we also prepared and loaned equipment free of charge to medical institutions whose own equipment was destroyed by tsunami-induced flooding.
Through these efforts, we helped to ensure medical care could be resumed as soon as possible after the disaster. We continue our support activities by purchasing snacks and other products used in the company from businesses in the disaster-affected areas.
Ecocup movement
We collect plastic bottle caps that would otherwise become waste within the company to join the movement of recycling these caps and using the money raised to buy vaccines for children.
We plan to expand our efforts in this movement to help provide polio vaccines for children in developing countries, and also to contribute to CO2 reductions.
Headquarters
3-13-11 Shin-kitano, Yodogawa-ku, Osaka 532-0025 Japan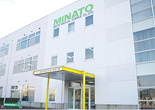 P.H. HAS-MED (est. 1992) company is exclusive distributor of Japan corporation: Rehabilitation&Wellness Minato Medical Science Co., LTD. Don't wait! Just contact with us!
+48 33 812 45 82 FAX: +48 33 812 31 79 biuro@hasmed.pl