What is the good design award?
Founded in 1957, this is the sole mechanism for comprehensively evaluating and recommending designs in Japan.
A large number of companies and designers are participating in this both domestically and internationally as a movement to improve industry and lifestyle culture through design.
Headquarters
3-13-11 Shin-kitano, Yodogawa-ku, Osaka 532-0025 Japan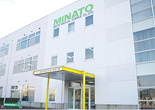 P.H. HAS-MED (est. 1992) company is exclusive distributor of Japan corporation: Rehabilitation&Wellness Minato Medical Science Co., LTD. Don't wait! Just contact with us!
+48 33 812 45 82 FAX: +48 33 812 31 79 biuro@hasmed.pl